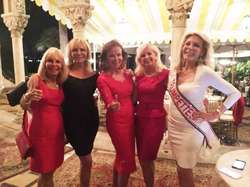 Donald Trump is the current president-elect! If the electors appointed to the electoral college don't overwhelmingly cast their ballot for Hillary Clinton December 19th then 1600 Pennsylvania Ave could very well be listed as a registered sex offenders residence. God bless America!
According to exit polls we can thank white women for this travesty. As a Caucasian woman who voted for Hillary in the general election this calls into question my legitimate ties to being white. Although Ancestry.com could very well reveal I'm 10% African. (But aren't we all African when you get down to it?) And since social scientists love putting people into little boxes let's unpack the reasons why so many white women voted for Trump. Please note this is based on my own 44 years of qualitative research including but not limited to women's locker room banter, cliques, dating, friendships, work experiences and watching plenty of day time talk shows.
I would wager most of the women who cast their ballot for Trump probably are in a relationship with a Trump supporter. Even though it's 2016 I know many men who get two votes- their own and their spouses. The reason why women do this baffles me – I can only guess it's a watered down version of Stockholm syndrome/stand by your man bullshit.
They are heterosexual and spend time in homogeneous communities. This translates to the inability to see beyond their own nose on most issues. Empathy is not their strong suit.
These women are in complete denial about the rape culture we live in. Suppression, justification and lack of empowerment are reasons why this rapey cesspool continues to swirl in America.
They enjoy their privilege and don't want to share the splendors of an equal society. It's one of those ugly truths about America. We are competitive with each other and ourselves.
They despise Hillary Clinton for staying with her husband after all the affairs. Women love to judge other women especially when it comes to managing love and marriage. Many women resent Hillary because she stuck around instead of sticking it to Bill.
The sexism of Benghazi. Male leaders make mistakes and are free to move forward but God forbid a woman leader screws up – it's over! Case in point, Hillary took responsibility as one should with her role at the time as Secretary of State however when Colin Powell intentionally lied to America with false claims of weapons of mass destruction which led to the invasion of Iraq, he refers to it as "a blot on his record" and everyone forgives him. Moral of the story, women must be perfect at all times.
Some white women want to keep their place. Hillary has always been a brainy, no- nonsense kind of personality. She was late to take on Bill's last name and continued to work after her marriage. This does not bode well with the feminine construct so other women tend to distrust her instead of rallying to support her in her power.

Fear. They fell for Trump's fear mongering hook, line and sinker. Trump literally capitalized on every dark thought in all of our minds from terrorism to distrust of our neighbors locally and globally.

While writing this list I realized I am guilty of something I hate in our culture, blaming the woman. It's the epitome of sexism. What about all the men who voted for Trump? Why do they get a pass? What does this say about America's men? They too are guilty of all the things I outlined above. Are men (and women) really this basic? I don't believe so but if we continue to accept excuses for bad behavior, minimize sexual misconduct and not challenge each other on evidence-based policy issues at hand then yes Americans will continue to vote for fascist's like Trump.