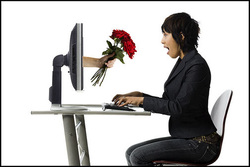 Some may take offense to the title of this blog entry considering my choice of language. It's 2015,
why
choose the word HOMOsexual? It's soooooo DSM-III. Well I chose it because my sheltered and very sweet Mother once asked me if I was a "practicing homosexual". Mind you I was already out to my mother but she was essentially asking me about my love life in her special June Cleaver way. Sadly at the time I could not call myself a "practicing homosexual" just a single, dateless, poser! But times have changed…I
finally
met the woman of my dreams and we are playing couple in my little apartment off Hollywood Boulevard.
But my dating journey looking for the right match took several years…okay, lezbehonest decades! I have had many relationships since my twenties and epically failed enough to feel qualified to share some observations around how shame in the queer community may be interfering with stability in the love and romance department.
Many same sex relationships are short-lived and rocky. This happens partially because when the going gets tough many of us do not have a supportive family to lean on like heterosexuals receive. Subconsciously our family members wish us to be with the opposite sex therefore they lend a bias opinion when relationship troubles occur. Family may encourage a break up because they would rather you be single than in their face gaying-it-up in a relationship. This subtle lack of acceptance has even bled into our own hearts and minds. I recall getting the same blanket response to ditch the relationship from my gay brothers and sisters. Why? Because they too have been given the same shitty advice and regurgitate it back to you. So it's one big shame circle preventing LGBT's to fully self realize. Now remember I don't think anyone is doing this on a conscience level. But just be mindful that this could be happening to you.
Has being marginalized impacted our ability to love each other and ourselves? Living outside the heteronormative box poses greater challenges but sweeter rewards. Our perspective on the world is invaluable. So I'd like to encourage the queer community into being less reactive when relationships woes come up. Instead of kicking your sweetheart to the curb and inflicting another act of self-loathing may we exercise love, compassion and healing. Start with loving yourself and the rest will follow. If you are at a loss with where to begin check out
Radical Acceptance
by Tara Brach or good old Dr. Wayne W. Dyer. Is it obvious I am a self-help whore?
Now Pride is just around the corner. Tis the season to find love! Many LGBT singles will be out on the prowl hoping extended eye contact along the parade route will turn into hot summer nights followed by wedding bells. But in order for this to realistically happen you've got to clean up your game.
Below are a few tips designed to establish a good impression for the practicing homosexual.
Tip # 1 – If you ask them out, you're paying! Going dutch screams unromantic. If you are poor get creative and go on a picnic.
Tip #2 – Sober is sexy. Do not self medicate before the date. This includes pills, alcohol and marijuana.
Tip # 3 – Stay fully present while on the date. This means put the mobile device away. Make eye contact and enjoy your company.
Tip # 4 – DO NOT TALK ABOUT YOUR EXES!
Tip # 5- Talking about friends in common could lead to a friend zone fellowship when courting turns to gossiping.
Tip #6 – Go someplace where you will
not
run into a ton of friends.
Tip #7 – Be authentic. Women have been trained culturally to accommodate. However for a real connection one must be authentic.
Tip #8 – Ask your date questions to learn more about them. Determine if their morals and values are in alignment with yours.
Tip #9 – Do not over share about all your trials and tribulations. Dreary! This is a date not therapy.
Tip #10 – No one forces you to be monogamous. Identify what type of relationship you seek, be honest and stick to it. If you are polyamorous it's important to mention that on the first date.
Tip #11 – Do not make plans beyond the length of time that you've known this special someone. For example, if you are on the third date do not buy tickets to backpack through Vietnam six months from now. It could get awkward real quick!
Now go get 'em tiger!